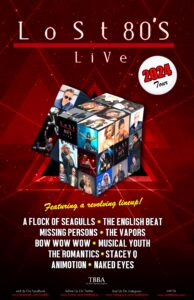 You'll Never Forget Your First Time….
Was it really that long ago when synthesizers and cotton-candy hair seemed oh-so modern? 
Not for The Lost 80's Live, this  Reagan era tour features some of the most recognizable  acts from that great decade, This amazing show  is filled with all your favorite 80's songs performed by the artist's you know and remember,
Our Line Up will Change from time to time, This is a unique opportunity to see all these great groups from the amazing 80's performing live on one stage, their Biggest New Wave and Pop radio hits of all time. 
The Lost 80's Live tour has been described by thousands of concert goers as a greatest hits show of the 80's and a rare opportunity to experience so many great bands in one concert, one night, on one stage.
Every song played is on a greatest hit's Album of the 80's and the moment is timeless, don't miss this 80's best of concert, don't miss the Lost 80's Live.
This package is geared towards the Generation X or Reagan era 25 – 65 + of age, Fans young and old can now see more then one of their favorite artists from the 80's Live
Re-live that great feeling one more time.