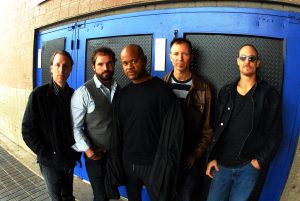 From meteoric rise on the radio throughout the 1990s, through the subsequent decade of thought- provoking songwriting and amassing an extremely dedicated fan base on tour, Blessid Union of Souls has become amongst the most beloved, meaningful and musically consistent acts of this generation. Thanks to the seamless merger of contagious pop, rock and soul from singer Eliot Sloan, coupled with his ability to continuously write socially conscious and spiritually inspiring songs, it's no surprise to see gold records, chart-cruising singles and a slew of soundtrack appearances.
Just for the record, Blessid Union of Souls has thus far clocked in a number one smash, a trio of top tens, five top 20 tunes and seven to hit the top 40, spanning the diverse likes of the iconic ballad "I Believe," the quirky and colorful "Hey Leonardo (She Likes Me For Me)," the acoustically framed "Light In Your Eyes", plus romantic favorites like "I Wanna Be There" and "Let Me Be the One" (to name a mere handful). Add in the gold selling landmark debut disc Home, being featured on the gold selling Carole King tribute album Tapestry Revisited and the double platinum soundtrack for "Pokemon: The First Movie", in addition to appearances on "Contact" (starring Jodie Foster), "Ace Ventura: Pet Detective", & numerous TV shows, and Blessid Union of Souls' fingerprints have literally encountered every facet of pop culture.
Blessid Union of Souls was one of the bigger touring acts in the late 90's and early 2000's.  The band averaged over 100 dates per year and is still entertaining fans young & old alike with their high-energy show. This is one of the quintessential U.S. family friendly bands; their musicianship is world class, and their music is fun and uplifting. Look for them live in concert all across America!