Get Down with Grandmaster Flash!!!
4th Annual LEAF Downtown AVL
August 3-4, 2018 in Pack Square Park  Asheville, NC
MORE INFORMATION: For more information on LEAF Downtown opportunities such as the Art Dash 5K, VIP tickets, After Parties, Volunteering, Vending or covering the event, please visit – theLEAF.org/downtown
JOIN THE CONVERSATION:
#LEAFGetDown
• Facebook Event
MISSION
LEAF Downtown AVL celebrates communities, creativity, diversity and families in the heart of Downtown Asheville!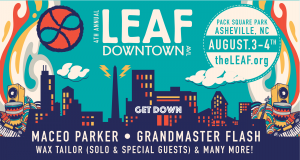 Kool & The Gang is set to perform Thursday, September 13 at the AMPLIFY (VIP) Sneak Peek Party!
Single and three-day passes are available at kaaboodelmar.com
Follow @KoolandtheGang and check out @kaaboodelmar  for festival details and announcements
#KAABOO #Koolandthegang