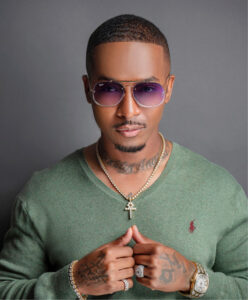 Chingy's undeniable talent shines with a rugged lyrical flow that highlights his experience as a former
battle rapper who's ascended to the Billboard Hot 100 chart eight times and achieved rapid mainstream
success with the release of his triple-Platinum RIAA certified debut album, Jackpot and smash hits "Right
Thurr," "Holidae In," "One Call Away" and many more. Off stage, Chingy's acting chops include small
screen roles in television comedy series "My Wife and Kids," "One on One," "George Lopez," "Yo
Momma," as well as cameos in several films, including "Scary Movie 4" and "Speed Dating." In 2002,
Chingy toured as an opening act with Nelly and soon became a protégé of Ludacris and his manager,
Chaka Zulu, who signed him to Disturbing Tha Peace (DTP) record label. Chingy's 2003 summer debut
single, "Right Thurr," became a bonafide hit and shot to No. 2 on the all-genre Billboard Hot 100.
Chingy's debut LP, Jackpot, embodied his fresh energy thanks to his unique slang like "thurr" and
"herre," as well as the dizzying synth-based melodies. Chingy quickly managed to build a global fanbase
due to his accented, catchy hooks while men copied his style by rocking oversized colorful bandanas
beneath their baseball caps. Women swooned over his handsome features and tried to perfect the
popular 'chicken head dance' seen in the "Right Thurr" video. Jackpot was a commercial blockbuster,
birthing three singles — "Right Thurr" (which later scored a fiery remix with Trina and Jermaine Dupri),
"Holidae In" featuring Snoop Dogg and Ludacris and "One Call Away" featuring J-Weav — that all peaked
in the Top 5 on the Billboard Hot 100. Chingy's second platinum album Powerballin' featured Hot 100 hit
"Balla Baby" as well as a collaboration with Janet Jackson on "Don't Worry." Chingy followed up with
another RIAA-certified Gold record, Hoodstar, which also reached the Billboard 200 all-genre Top 10
albums chart, and spawned Hot 100 singles "Pullin' Me Back" featuring Tyrese and "Dem Jeans." That
same year Chingy was featured on Houston's Hot 100 single "I Like That" featuring Nate Dogg and I-20.
In 2020, Chingy teamed up with powerhouse vocalist Meghan Linsey and her equally talented Meg &
Tyler duo partner, Tyler Cain for "The Woah Down," which became a No. 1 Radio Disney hit on its all
genre chart.