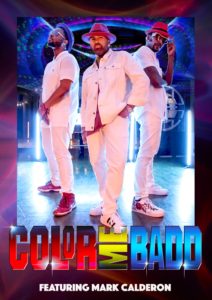 Color Me Badd is one of the top R&B vocal groups of all time. The group has sold 12 million
records in the United States. The group is well known in Australia, Philippines, Indonesia, parts
of East Asia, Thailand, the United Kingdom and New Zealand.
Their debut album, C.M.B sold over 6 million copies worldwide and became certified Triple
platinum in the United States. They have 3 number 1 singles and 17 top 20 singles.
Color Me Badd has five hit singles from their debut album C.M.B. These were "I Wanna Sex
You Up" (U.S. #2), "I Adore Mi Amor" (U.S. #1), "All 4 Love" (U.S. #1), "Thinkin' Back" (U.S.
#16) and "Slow Motion" (U.S. #18). "I Wanna Sex You Up" was also on the New Jack
City soundtrack and hit number one in the United Kingdom.
Color Me Badd performed at the Smash Hits Poll Winners Awards in the United Kingdom,
winning the Best New Group trophy. They were awarded the Favorite Single R&B/Soul trophy
at the 19th annual American Music Awards. Color Me Badd won the Best R&B/Soul Single and
Song of the Year categories at the sixth annual Soul Train Music Awards.
They have been on T.V. shows, commercials and their songs have been in movies like "New
Jack City" and "No Strings Attached". Their single, "Sexual Capacity," also appeared on the
soundtrack to the Demi Moore film "Striptease"