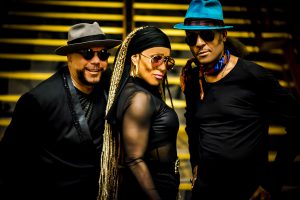 Shalamar sold over 25 million records until the classic line up split in the mid eighties. They are acknowledged as one of the best funk and soul groups of their generation. Reformed in 2001 – Howard, Jeffrey and Carolyn have been performing live with a seven piece backing band that has brought energy and a major injection of funk to audiences worldwide.
As Shalamar, Howard Hewett and Jeffrey Daniel collected more than 100 gold, silver and platinum awards. Performing live with classics such as A Night To Remember, I Can Make You Feel Good, Friends, Make That Move, Sweeter As The Days Go By, There It Is and I Owe You One. Howard and Jeffrey, together with Carolyn Griffey – the daughter of Solar Records founder Dick Griffey, they bring an exciting blend of funk, disco and soul to every live show. One of the most powerful and energetic acts on the circuit today.
As noted in the British Hit Singles & Albums, Shalamar were regarded as fashion icons and trend-setters, helping to introduce 'body-popping' to the UK. Jeffrey Daniel brought street dance to the United Kingdom – he is noted as the dance mentor for Michael Jackson and the man that taught him the moonwalk having first performed the dance on US TV with the Electric Boogaloos. Howard Hewett is one of the most iconic US soul artistes of all time, releasing numerous solo albums and collaborating or performing with some of the greats including Stevie Wonder, George Duke, Earth, Wind and Fire, Teena Marie, Anita Baker, Dionne Warwick, Deniece Williams and El Debarge. He was recently voted by Soul Tracks as one of the top 10 greatest male soul singers of all time.
For the first time in over 20 years and for the first time with Howard, Jeffrey and Carolyn – a new single was released at the end of 2017 to coincide with a major UK and European tour.