---
Pyramid Entertainment News
---
Kool & The Gang performing in front of a sold out crowd in Germany!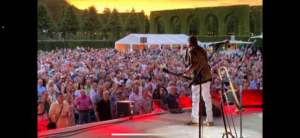 Their summer tour has been a HUGE success!
Everyone is CELEBRATING!
Click on the below hyperlink to view their performance at Camp Bestival in Dorset, England.
https://www.facebook.com/Robert.Kool.Bell/videos/773205754026557/?vh=e
Kool & The Gang continues to marvel audiences, receiving standing ovations as they headline some of the biggest and most reputable festivals and events throughout Europe!